Forum des Langues:
every year inToulouse since 2013

Traversees africaines:
every year in Graulhet since 2014
Terres cuites d'hier et d'aujourd'hui: 17th – 18th of sept. 2016
Journee du Patrimoine in Puylaurens
Concert: Maison d'accueil St Vincent-Ste Croix 16th of june 2016 in Sorèze.
On 27th and 28th november 2012, we participated in
FORUM REGIONAL DE L'ECONOMIE
SOCIALE ET SOLIDAIRE
( FRESS )
IN ESPACES VANEL, MEDIATHEQUE CABANIS
IN TOULOUSE
Espace Artisanat & Création en Commerce Équitable


-:-:-:-:-:-:-:-:-:-
From 28th march to 3rd may 2009, we presented an exhibition on
TRADITIONAL ARTS IN UGANDA:
POTTERY - BASKETS - BATIKS - BANANA FIBERS



in the cultural space of the Mairie of
CHATILLON-SUR-LOIRE (LOIRET)
in FRANCE



-*-*-*-*-*-*-*-*-*-*-*-*-
From 8th to 12th september 2008, we participated in
THE AFRICAN WEEK in BRUSSELS
which coincided with the meeting of
JOINT PARLIAMENTARY ASSEMBLY.
European Union has proclaimed 2008
the year of Intercultural Dialogue and African Week was part of a lot of manifestations
organized particularly in Brussels and Strasbourg in that occasion.
-*-*-*-*-*-*-*-*-*-*-*-*-*-*-*-*-*-*-
During all the year 2007, we participated in the
COMMONWEALTH HEADS OF GOVERNMENTS MEETING 2007
( CHOGM 2007 )
in KAMPALA, UGANDA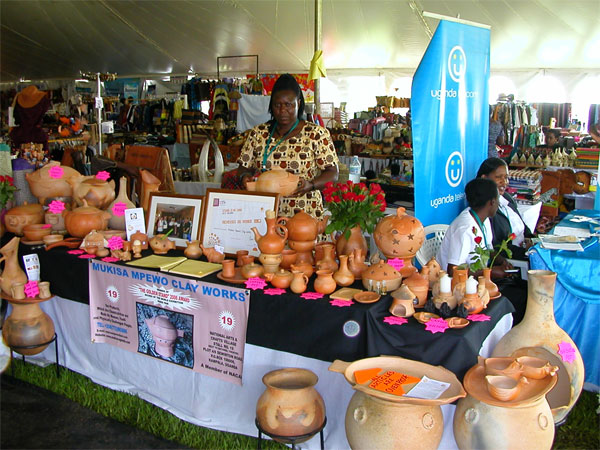 National Arts and Crafts Association of Uganda ( NACAU )
Shop 19, Cultural Village, National Theatre, 4/6 Dewinton Road, Kampala
____________________________________________________________
In 2006, we participated in the:
PARIS TRADE FAIR 2006
From the 28th of april to the 8th of may 2006
Riches of the World Exhibition
The Foire de Paris organized an international stand competition. The quality and authenticity of our products were rewarded by
A GOLDEN STAND 2006